Quilting in the hoop.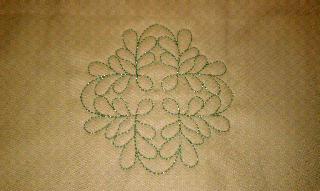 No stabilizer required. Just place the quilt sandwich into the hoop and get your quilting design started. the bottom looks as good as the top. I am loving this for quilts I want a really nice look on, since my FMQing is still not fantastic. They say you can do really large quilts too. I plan to try a twin (the top I finished ages ago) when my CD of designs comes in. I had to get my second choice CD though...my first choice was download only so it wouldn't count towards all the awesome promotions they were running.
I did a trial run of one of my Christmas presents last night. Hope to make it this weekend. Applique letters!
(Edit to add: wow, that is an awful picture. Sorry folks!)